The first-ever Microsoft Ignite was busy and a great tech event. The best and brightest minds came together and it was really informative. There were over 235 Sponsors and Exhibitors and 23,000 attendees and they all brought their best business cases, greatest products and services, as well as, their passion for innovation to Chicago. It was a fantastic stage for the small and big ideas, the vision and the objectives in the IT technology.
In the opening keynote of Microsoft' CEO Satya Nadella, all attendees were curious about the Microsoft's IT innovations, and their expectations were not disappointed. During the 4 days the participants could experience an event of superlative – with a lot of happening in the business. Microsoft really showed that they are the leading innovator in many areas!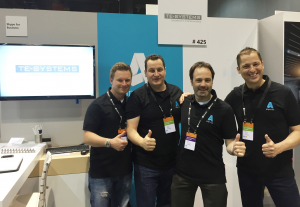 We at TE-SYSTEMS participated and collaborated at Microsoft Ignite 2015 in Chicago. We presented our innovative Software Session Border Controller anynode which cracked smiles in everyone. Because anynode convinces with its user-friendly interface and helpful tools. anynode can easily be connected with Skype4Business. Microsoft Ignite and anynode – simply fantastic!