anynode

®

Technical Data
The software Session Border Controller anynode is developed explicitly for up to 2,000 sessions and optimized for virtual use. Based on a decade of experience in VoIP technology, anynode supports all necessary features of an enterprise Session Border Controller (E-SBC). anynode includes an easy-to-use centralized, web-based management GUI ensuring seamless configuration and monitoring. Find all the performance features in our datasheet.
---
What kind of features does anynode

®

offer?
anynode offers different features so that you can enjoy maximum flexibility.
Platform independent – Windows and Linux
Use in virtual environments
An extremely large list of qualified VoIP systems and providers
Routing and rewriting based on various criteria
Enhanced and optimized call transfer implementation
Any number of registrations
Multiple security configurations and scenarios
Scalable from 2 to 2,000 sessions per serve
Microsoft certified – Skype for Business, Lync 2013, Lync 2010
Microsoft Teams Direct Routing certified with multi-tenant support
---
What is the operating concept?
Make the complex easy to use – that's what TE-SYSTEMS stands for. So it is really the logical choice because anynode is highly user-friendly.
Web-based Management interface
Easy-to-use Interface with helpful hints
Wizard for many common SIP Providers and VoIP Systems with predefined configuration templates
Administration of multiple anynodes within one configuration interface
Monitoring of active sessions, events, and call history
Various statistics on completed sessions
---
What does anynode

®

have for security features?
anynode as a typical software SBC protects your internal network against external influences. From the provider into your own company network anynode is a secure firewall. It can also encrypt incoming SIP signaling internally via TLS and SRTP. In addition unauthorized third parties have no chance to pass anynode, because anynode hides the topology of your network. However, if any traffic should be received from outside of your system structure, anynode ignores these calls which conserves system resources – unlike a direct link between the provider and PBX system where requests of unauthorized third parties are rejected rather than be ignored. This alleviates the needless consumption of resources.
Voice over IP
B2BUA enabled Separation of SIP communication
Topology hiding
TLS and SRTP
IP address White lists
Comprehensive and easy to use X.509 certificate Management
Configuration interface
User management
Extended security for configuration interface via https and client certificates
Separate network interface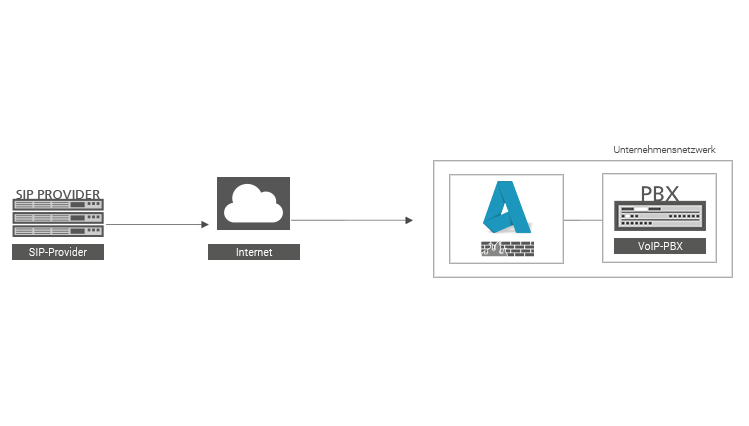 ---
What are the criteria for routing and rewriting by anynode

®

?
anynode offers numerous comprehensive possibilities with individual routing and dial string rewriting. Using the normalization of the call number format, multiple nodes can communicate together. You can decide how the configuration of anynode should be in your scenario. With the highest grade of flexibility, anynode can be configured anytime.
Routing between multiple domains
Time-based Routing
Routing based on destination number, source number, and redirecting number
Routing based on prefixes, suffixes, wildcards, and extension ranges
Routing based on LDAP/Active Directory and static directories
Routing based on decisions of an external database or software via REST API (Route Supervision)
Routing based on SQL-Databases
Tagging and Enhanced Dial String Rewriting
Conditional routing, rejecting or ignoring calls
Rewriting of the destination number, source number
Rewriting before, during, and after routing
Reverse Number Lookup (RNL)
Cause/status mapping
Supports group calls and call forking
Load balancing
Enhanced call transfer implementation
Emergency Location Identification Number (ELIN) support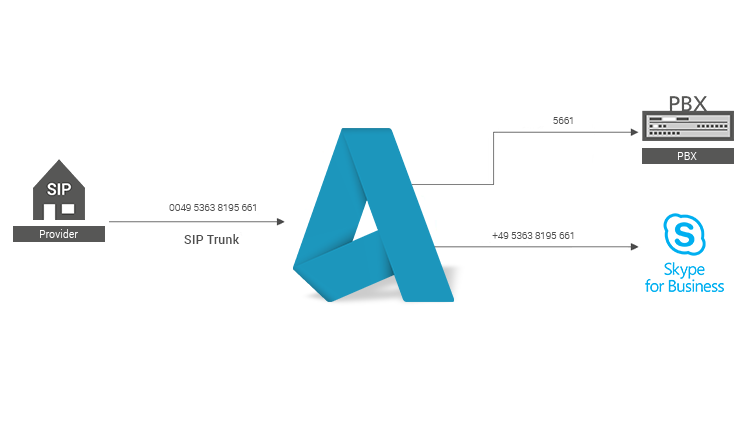 ---
Which signaling and media files are supported?
With the help of many supporting transport protocols, signaling options and media codecs we simplify the adaption to different VoIP infrastructures.
Transport
IPv4 to IPv4, IPv4 to IPv6, IPv6 to IPv6
UDP, TCP, TLS
NAT (Network Address Translation), Port Mapping
Signaling
SIP and SIP Secure
Support of H.323
Media
RTP / SRTP (SDES/DTLS), ICE, ICE lite
Media Pass-through, Media Transcoding, Media Bypass
Transcoding: G.711 a-law, u-law, Opus-NB/WB , G.722, G.729, linear L16, Stereo, Multichannel codecs, SILK-NB/WB
Pass-through/Bypass: e.g. G.711 a-law, u-law, Opus-NB/WB , G.722, G.723, G.729, linear L16, Stereo, Multichannel codecs, T.38, Fax Pass-through, H.264, SILK-NB/WB
---
Which analysis options and summary statistics are integrated?
With the already installed tools for monitoring and diagnosing, no further installation of external analysis programs is required. anynode offers an extensive overview for the evaluation and inspection of your System.
Trace Analyzer displays details on RTP streams and SIP messages
Active charts provide an overview of active sessions with a comparison of the CPU and RAM usage
Active sessions check the details of active connections
Call History for tracking all sessions
Statistics
Events
---
And anynode

®

offers even more!
anynode offers a secure solution for critical scenarios. Whether during heavy traffic or failure of one system – anynode enables secure accessibility.
1:1 Redundancy for high availability
Load balancing
Failover
---
How do you get anynode

®

?
By purchasing anynode you will receive a "license-on-demand-key" (LOD key) via e-mail. anynode is "plug and play" – simple, fast installation with instant availability for VoIP use at the highest quality level. An extension is possible at any time.
Please contact one of our Product Partners or contact us directly at sales(at)te-systems.com.
---
The listed features are not supported by all endpoints. You will find detailed information on compatibility in our Interoperability List, which is available and updated monthly in our Community.

---