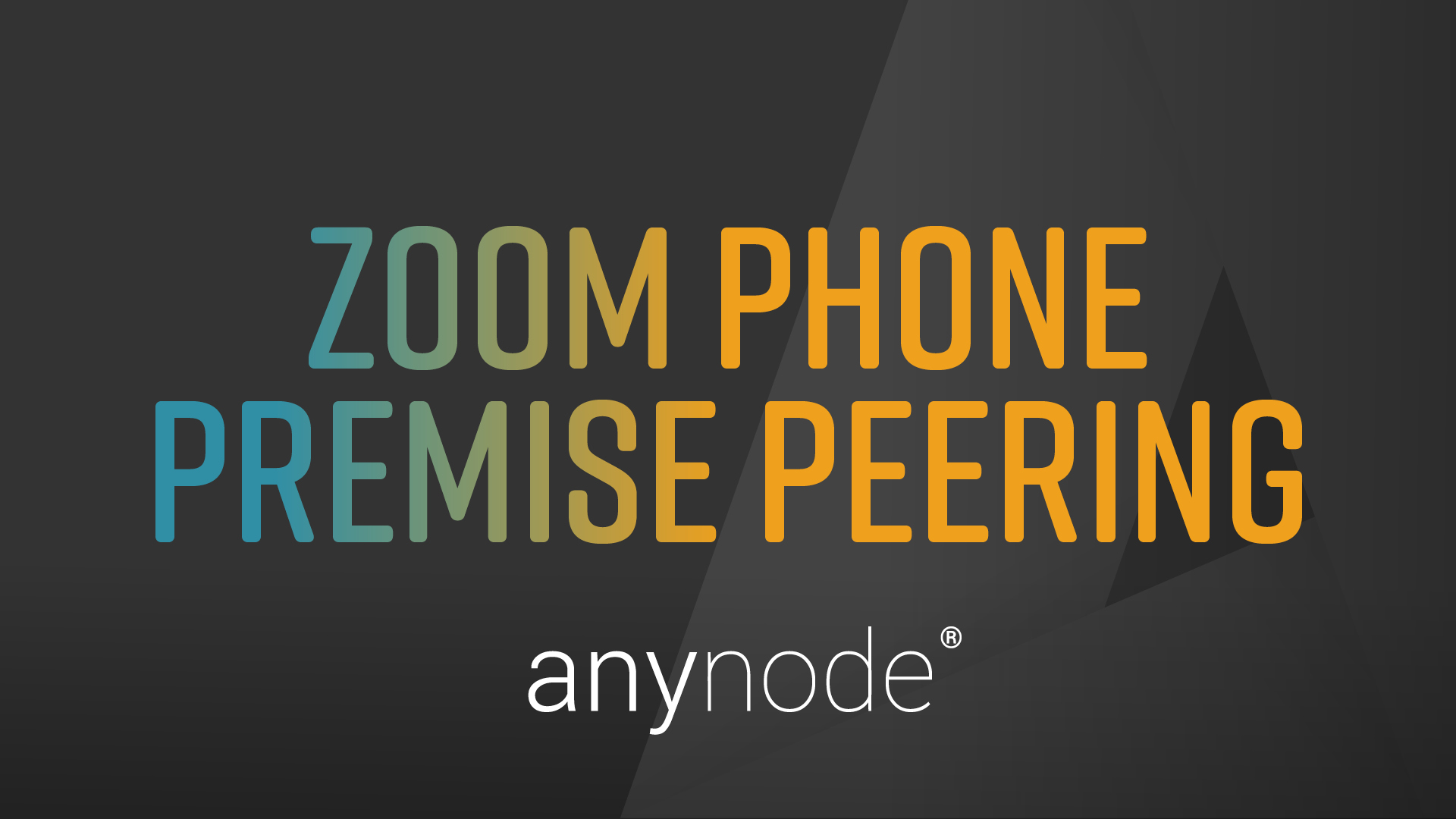 Zoom Phone Premise Peering mit anynode – The Software SBC
Zoom Phone Premise Peering ermöglicht es Unternehmen, ihre bestehende Telefoninfrastruktur nahtlos mit Zoom Phone zu integrieren und so eine umfassende und flexible Telefonielösung bereitzustellen. 
anynode spielt eine entscheidende Rolle dabei! Als Session Border Controller fungiert er als Gateway zwischen dem Telefonsystem der Organisation und Zoom Phone Premise Peering. Er übersetzt sicher die Signalisierungs- und Medienprotokolle, die von Zoom Phone verwendet werden, in die Formate, die von der Organisation genutzt werden.
Laden Sie hier unsere TechNote zur Konfiguration von Zoom Phone Premise Peering mit anynode runter.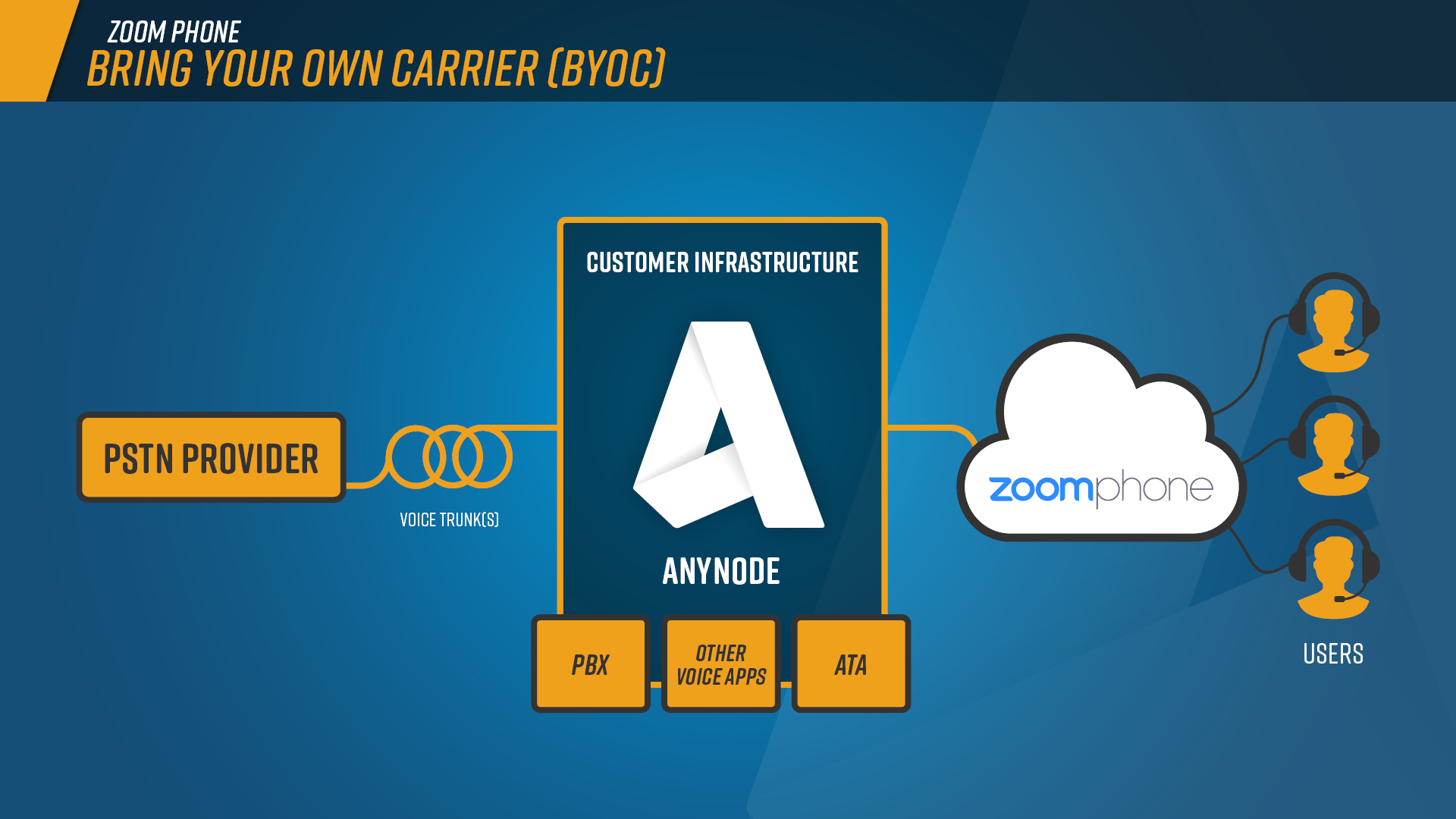 Warum Zoom Phone Premise Peering mit anynode unschlagbar ist:
Vielseitig: Mit Zoom BYOC (Bring Your Own Carrier) und anynode können Sie sich nahtlos mit nahezu jedem Telekommunikationsanschluss verbinden oder mit Telefonanlagen von Drittanbietern integrieren.
Kostengünstig: anynode kann auf bestehenden Hardwareinvestitionen wie Ihrem Rechenzentrum installiert werden. Suchen Sie nach anynode im Azure Marketplace, wenn Sie eine Cloud-Bereitstellung bevorzugen.
Einfach: Der anynode-Konfigurationsassistent macht die Installation zum Kinderspiel. Nur wenige Schritte, um Ihren SIP-Provider mit Zoom Phone zu verbinden.
Sofort verfügbar: Einsatzbereit und nur einen Augenblick entfernt: Installationsdateien sind in unserer Community zum Download verfügbar, und Lizenzen werden innerhalb von Minuten per E-Mail zugestellt. Legen Sie sofort los!

anynode ist seit 2021 offiziell für Zoom Phone zertifiziert. Es wurde bis heute kontinuierlich in enger Abstimmung mit Zoom weiterentwickelt, was bedeutet, dass es vollständig kompatibel und auf dem neuesten Stand ist.
anynode Masterclass – ganz schön umfangreich 
Schauen Sie sich unsere Masterclass "Zoom Phone Premise Peering with anynode – The Software SBC" an, welche die Einrichtungsschritte im Detail erläutert. Die Kapitel mit den wesentlichen Konfigurationsschritten beinhalten Zoom Web Portal Configuration, Zoom Node, Provider Node, und Routing. Die Masterclass ist nur in englischer Sprache verfügbar. 
Nach Abschluss dieser Masterclass werden Sie fundiert verstehen, wie Sie Zoom Phone Premise Peering mit anynode – The Software SBC konfigurieren. Sie werden über das nötige Wissen verfügen, um die Integration einzurichten, zu verwalten und auftretende Probleme zu lösen. Dadurch sind Sie in der Lage, die Kommunikationsfähigkeiten Ihrer Organisation zu verbessern.
Besuchen Sie unsere Masterclass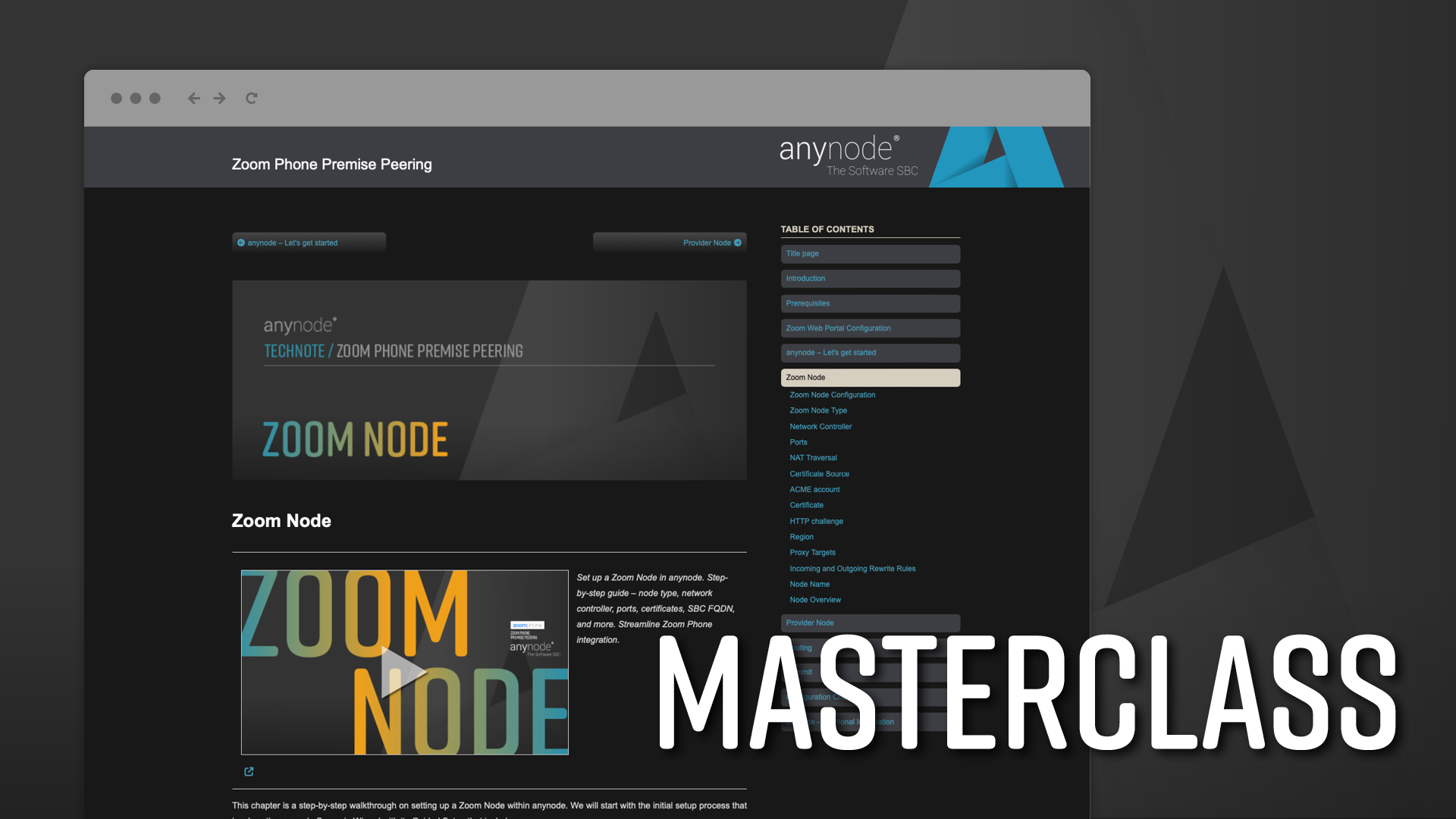 Video Tutorials – eine Stunde leicht verständliches Lernen mit Judy
How to configure Zoom Phone Premise Peering with anynode – The Software SBC – Video Tutorials on YouTube: Wir bieten über eine Stunde Videomaterial, präsentiert in einer äußerst freundlichen und leicht verständlichen Art von unserer großartigen Moderatorin Judy. Die Masterclass Video Tutorials sind nur in englischer Sprache verfügbar.
Schauen Sie unsere Masterclass videos
---