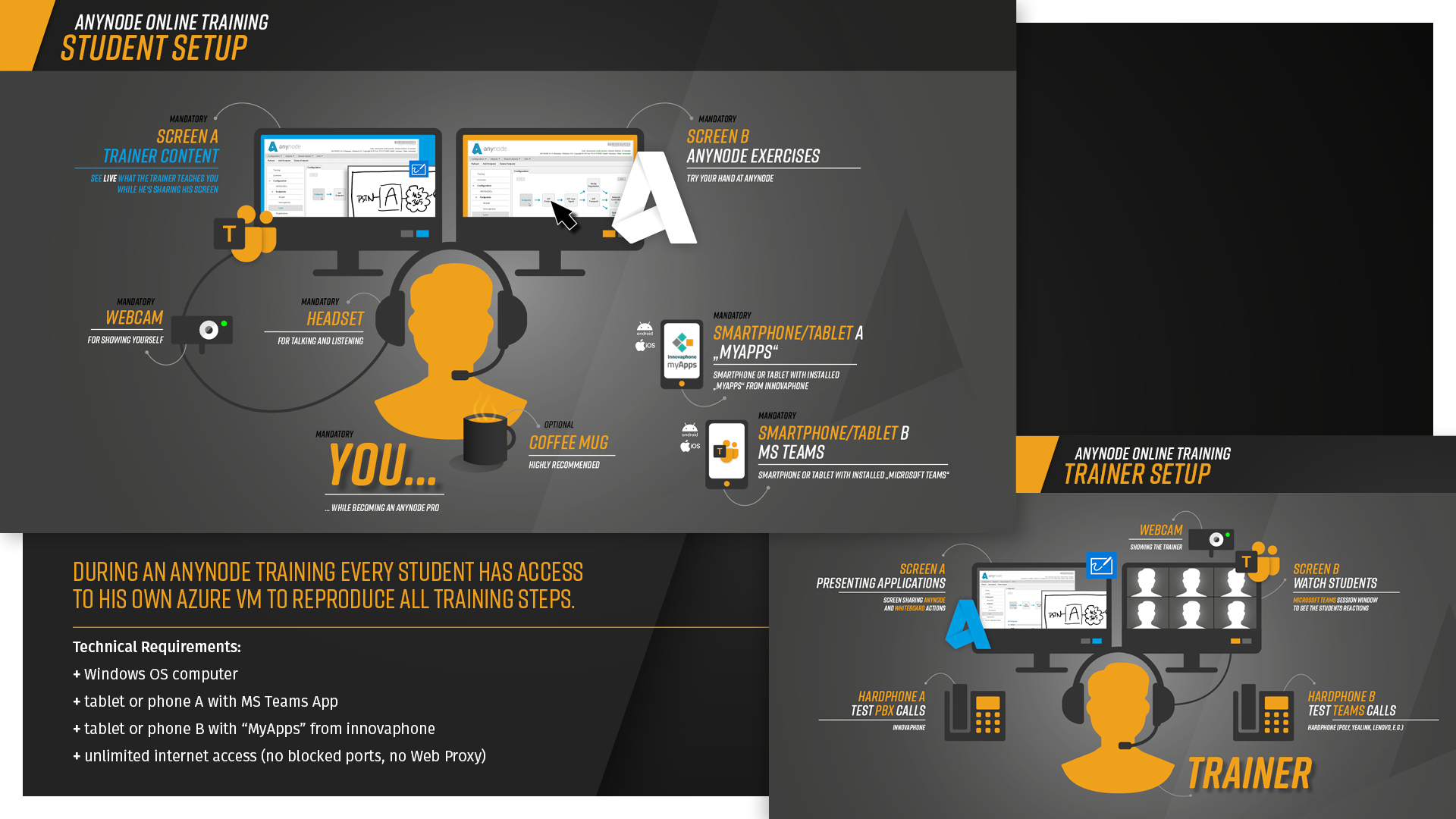 anynode Advanced Online
This online training is aimed at people who have already participated in the anynode Basic Online training and have sound knowledge of using anynode. 
In this training, students will learn how to perform more complex configurations and become anynode expert. 
---
Training goals 
The training offers a deeper look into the core components of anynode and is primarily aimed at users with experience who have already attended the anynode basic training. The goal is to handle complex functions even more confidently in day-to-day operations. 
 
Among other things, the topics include registrar functions, transport connections, extended routing options, and extended analysis options. A detailed list of the training content can be found below. 
 
In addition, content learned in the anynode basic training course is integrated into the exercises, and, tips to enhance the anynode experience are taught. This training can also address topics that are of particular interest to the participants
---
Current dates
The following are the current dates of the upcoming online training. We look forward to meeting you soon in one of our online trainings.
The duration of the training depends on your booked training:
For US/International: 2 days, 8 hours per day
For Asia/Pacific: 3 days, 4 ½ hours per day
For Europe: 3 days, 4 ½ hours per day
Please note the time zone and summer and wintertime. The Eastern Standard Time (EST) is used during fall and winter. It starts from the first Sunday of November until the middle of the second Sunday in March. Clocks switch into Eastern Daylight Time (EDT) on the second Sunday of March.
Training schedule:
February 13/14 – 9:00 am – 5:00 pm EST (for the USA/International)
February 20/21/22 – 7:00 pm – 11:30 pm EST (for Asia/Pacific)
March 05/06/07 – 7:00 am – 11:30 am EST (for Europe, 1:00 pm – 5:30 pm CET/MEZ)
---
   Requirements
The course is conducted in English. For an optimal learning experience, we expect participants to have an advanced understanding of the English language.

Knowledge of fundamentals of internet protocols (e.g., IP addressing, DHCP, DNS)

 

Knowledge of fundamentals in Voice over IP, with a focus on SIP

 

PC running Windows OS

 

An additional monitor to enable parallel work in different systems

 

Smartphone or Tablet with MS Teams mobile app pre-installed (will be used for logging into training account)

 

A webcam, which must be switched on during the training to ensure interactive work

 

Unlimited internet access (such as, no blocked ports, no web proxy, etc.) for a seamless experience

 
   When to register?
Registrations are allowed until one week before the start of the training. If at least four people have not registered by this time, we reserve the right to cancel the training one week in advance. Participants who have registered in advance will be informed and, if necessary, an alternative date will be offered. 
   Number of participants
The number of participants for the anynode Advanced Online Training is limited to six participants per training.
   Costs
The cost of the anynode Advanced Training Program is $990,– per participant, and needs to be paid prior to attending the training.
   Language
The training material is in English. Communication between participants and the trainer will be conducted in English.
---
Training content
Introduction
Overview Training Setup
anynode Basics
Basic Installation
Add Teams Node
Registrar Node
Transport Connections
Outbound Load Balancing
Dial String Rewriting
High Availability
Reverse Number Lookup