Actualización de Software
Servicio (SAS)
Con nuestro servicio de actualizaciones y las siguientes versiones del programa, siempre tendrás lo último en tecnología.
Para mantener la compatibilidad con diferentes IP PBX y proveedores SIP, te proporcionamos regularmente con nuevas versiones de anynode disponibles para descargar en nuestra comunidad. Esta funcionalidad sin costo adicional, habilita compatibilidad para nuestro programa con la actual y futuras generaciones de sistemas operativos.
Debido a las relaciones cercanas con nuestros partners, frecuentemente nos proporcionan su retroalimentación y requerimientos, los cuales se integran en nuestro trabajo de desarrollo.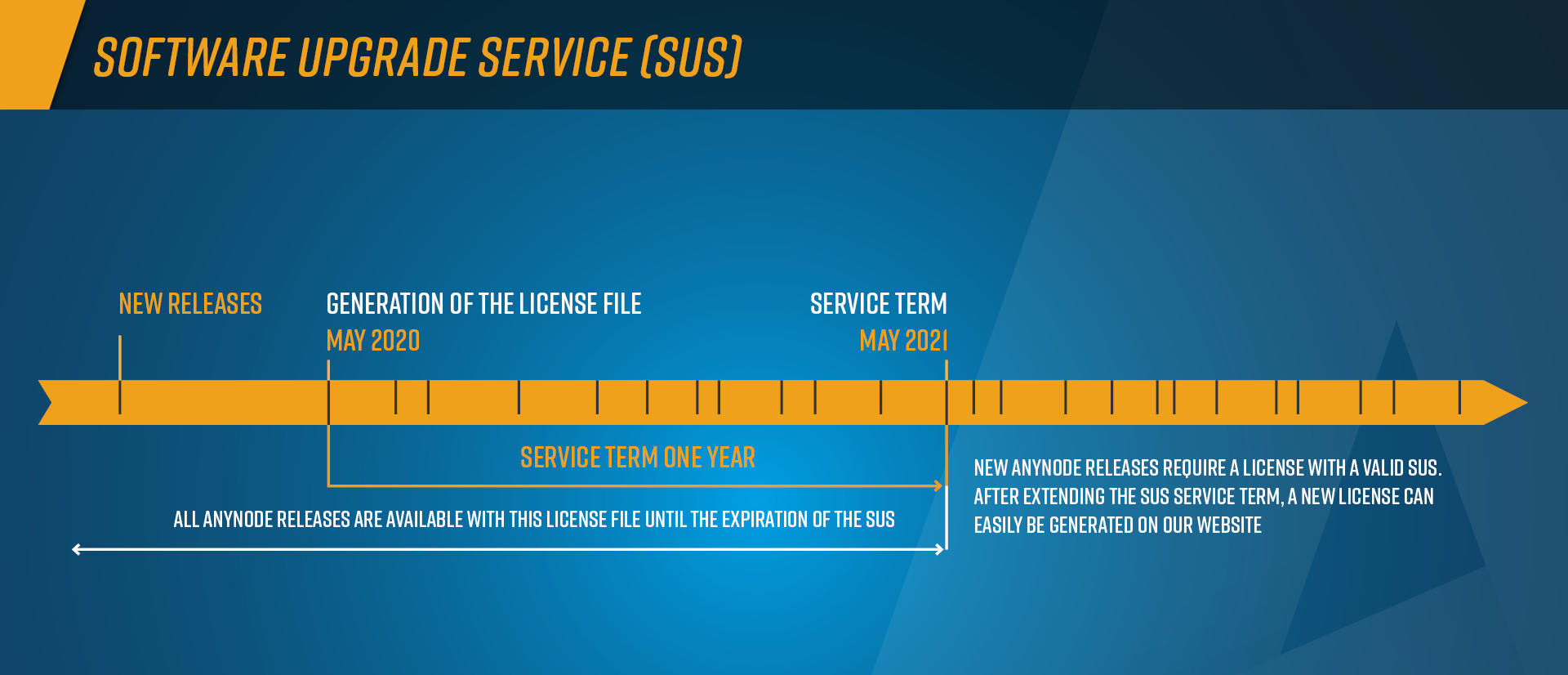 Beneficios del Servicio de Actualizaciones de Software (SAS)
Actualizaciones gratis
Cada nueva adquisición de licencia de anynode incluye automaticamente un año de servicio de Actualización de Software, lo que garantiza acceso gratuito a las nuevas versiones de anynode.
Duración del servicio
Mientras la duración servicio esté activa, todas las nuevas actualizaciones de anynode están disponibles para descargar e instalar desde la comunidad de TE-SYSTEMS.
Extensiones
Cualquier extensión de anynode, será ofrecida con una nueva licencia. Esta licencia incluye el servicio de actualizaciones con una duración del servicio independiente.
Extension of validity
The SUS can be signed for one, two or more years, regardless whether it is the first service order, a service extension or an upgrade. Después de que expire, se puede adquirir de nuevo.

Inicio de la Duración del Servicio
La duración del Servicio de Actualizaciones empieza con la generación del archivo de licencia al activar la clave LOD que está unida a la ID del sistema.

Sincronización de la Duración del Servicio
Es posible sincronizar la duración del servicio cuando la actual licencia de anynode y la duración del servicio difieren. El precio se calcula en mensualidades.
Periodo de gracia
Es posible extender el servicio de actualizaciones dentro de hasta 30 días después de que expire por un año o, en algunas circunstancias, por dos años.
Instalación
Es posible instalar las nuevas actualizaciones de anynode en cualquier momento. Sin embargo, solo se pueden usar las versiones de anynode que hayan sido lanzadas durante la duración del servicio de la licencia generada.

---
---